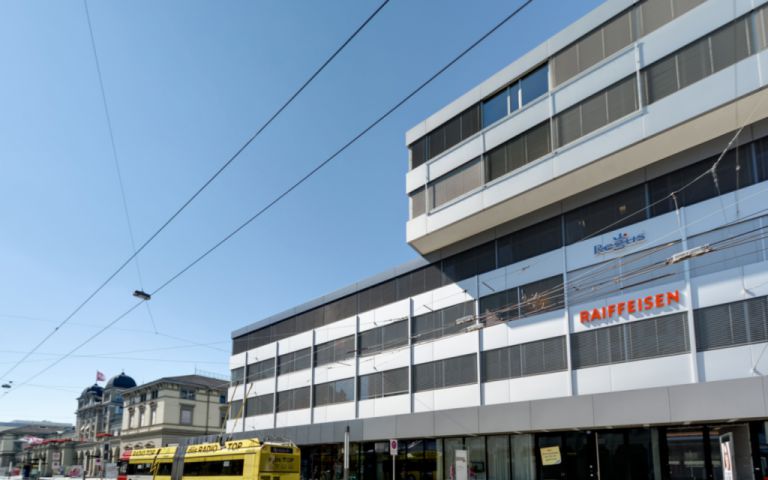 Switzerland

>

Office Space

>

Bahnhofplatz 17
Bahnhofplatz 17, 3. Stock, Winterthur, CH-8400
Our Winterthur centre is located directly at Winterthur train station in a modern business building constructed in 2010. Zurich Airport is 13 minutes away and Zurich Central Station 22 minutes away by train. By car, both destinations can be easily reached in less than 30 minutes. Winterthur is known as a service, cultural and education centre with renowned applied science universities and 16 museums.
Switzerland's sixth-largest city distinguishes itself as an independent economic centre, home to the headquarters of several international corporations, including AXA Winterthur and Sulzer, and also acts as a link between the Zurich economic area and eastern Switzerland. The Regus Business Centre offers 40 fully equipped and ready-to-use offices, co-working workplaces, as well as 3 conference rooms for your use at this booming location. There is also access to a car park, various cafés, eateries, hotels, banks, as well as fitness centres.
Key Features
24 Hour Access

Break-Out Areas

Business Lounge

Double Glazing

Elevator

High speed internet access

Lounge Area

Meeting Rooms

Raised Floors

Suspended Ceilings

Temp control

Vending machines

Videoconferencing studio

Voicemail
Location
By Road:
The Centers distance from Zurich downtown is Km26 approx. 30 min. drive.From Zurich down town follow A1 direction Winterthur, Bern, Flughafen.Take Exit 68 direction Winterthur-TössFollow direction St.Gallen, Schaffhausen, Winterhur ' Winterhur Railroad station (Bahnhof).
By Air:
The centre is located 23 km from Zurich airport.From the Airport follow A1 direction St.Gallen, Schaffhausen, Winterhur - Take Exit 68 direction Winterthur-Töss.Follow Winterhur ' Winterhur Railroad station (Bahnhof).
By Public Transport:
As the Center is located at Winterthur Railroad Station, there are 120 InterCity and EuroCity trains from all big cities in Switzerland and abroad (Munich, Stuttgart, Vienna) stopping at the Railroad station on a daily basis.
Browse Street View Images
From CHF 330 p/m
Get a quick quote for Bahnhofplatz 17
Get a Quick Quote