Serviced Offices
Sheffield
Want 3 extra months rent FREE?
Call us now for details
on which Sheffield properties
are currently offering 3 months
extra rent free! 01932 834 720
9 Serviced Offices in Sheffield
3 months rent free on selected properties
Prices from £120 per desk per calendar month
Range of fully furnished serviced offices
Offices available close to station
Business lounges and collaboration areas
Offices available at Sheff Utd Football Ground
Manned receptions with 24hr access
Serviced Offices in Sheffield
About Sheffield
Sheffield is a City in South Yorkshire in the North of England. The City was part of the original West Riding of Yorkshire, one of the three historic subdivisions of Yorkshire that closely followed the historic boundaries for the area.  Sheffield has a population of just over half a million making it one of the eight largest regional English cities that make up the Core Cities Group and is the third largest English district by population.
Sheffield is first thought to have been inhabited for nearly 13,000 years since the late Upper Palaeolithic period with the earliest evidence of human occupation found at Creswell Crags to the east of Sheffield. Several of the hill forts that can be seen in the local area have been attributed to a Pennine tribe called the Brigantes who were dominant in the area during the Iron Age.
Sheffield's affinity with steel rose to prominence in the 1740's when a process that was discovered led to the production of a higher quality of steel. This and the development of 'silver plating', a process which fused a thin sheet of silver onto a copper ingot and which became known as 'Sheffield Plate' spurred Sheffield's growth as a burgeoning industrial town.
Although many of Sheffield's Steel factories and production have been replaced by cheaper, foreign manufacturing the City has been the subject of some major redevelopment in recent years. Sheffield One, the local agency responsible for redevelopment has completed several local projects including the Millennium Galleries, the Peace Gardens, the Millennium Square and two further projects that included residential, commercial and retail developments, City Lofts Tower and the accompanying St. Paul's Place.
Other offices near Sheffield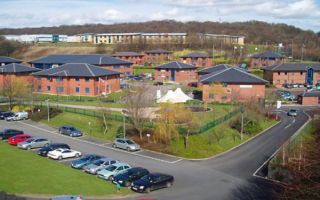 Chapeltown, South Yorkshire
Thorncliffe Park Estate, S35 2PX
Centre Details
Close
You have added this office to your Short List
What happens next?
Add any other offices that are of interest.
Once you are happy with your choices, complete the Short List / Quick Quote form.
We will provide the pricing and availability within 24 hours or the same day where possible.