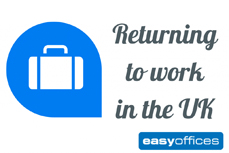 Moving back to the UK after living overseas can be difficult.
It's all good and well daydreaming about a proper cup of tea or meeting friends at your old local, but the reality is a lot of rules and regulations. Of all the challenges, starting back at work is the biggest.
Here is our guide to settling back into the UK after living abroad.
Benefits: tough new rules!
The government issued a long list of rules to make sure migrants do not take advantage of the benefits system.Ă'Â  These rules also affect British nationals returning to work in the UK if they have been living and working abroad. Ă'Â If you do not have a job lined up, be mindful of the fact that from 1 January, 2014, you will have to wait 3 months before you can apply for any income-related benefits.
Salary: get in the green
Lots of people come back to the UK because of the promise of a better wage. It really does depend on what you can do though. Check out this list of average salaries to see what you could earn.
Pensions: move them with you
If you have been working abroad, you may be able to transfer your pension into your British account. The Department for Work and Pensions should be able to help you with this.
Tax & NI: keep the tax man in the loop
You will need to tie up the tax affairs in the country you have left and then let HMRC know you are back. They will give you advice on any tax issues you may encounter, tell you what forms to fill in, give you your tax code and let you know if you may be entitled to any tax credits. The National Insurance Contributions office will also give you a NI number and let you know if you can 'top-up' your contributions for the period you were away. It may seem like a lot of paperwork, but changes to your residency will affect the amount of tax you pay. You should also be aware that if you are returning within 5 years of leaving, you are still liable to pay tax on any capital gains realised during that period.
Work: First day on the job
No-one interested in your tales of exotic beaches and wonderful sunrises? It can feel a little depressing when it's clear that your colleagues don't really want to know what your trip abroad was like and they don't seem to share the same interests as you. Don't be disheartened though – everybody gets a sense of holiday blues when they return and if you have lived overseas then this is exacerbated. Ă'Â You should also expect your values and beliefs to be slightly different to your colleagues as you have lived somewhere else for so long. Don't expect to settle in immediately – it can take time.
Skills: I know how to work a typewriter?
Many people returning to work in the UK will feel as if they have a gap in their abilities. The UK is a fast-paced country that demands up to the minute skills, software is constantly changing and working practices may have shifted beyond recognition. Don't be afraid to point out that this is new for you.Ă'Â  Ask for training when you are stuck, try to get yourself a mentor or, better still, when you are offered the job then ask the HR team about any training you may need to prepare for UK work.