Coworking & Shared Office Space
Flexible coworking and shared office space, designed to provide hot desking opportunities that suit your budget.
Find a coworking space that gives you the freedom to focus, collaborate and grow. Offering total flexibility at an affordable price, hot desking in a shared office is ideal for your dynamic business needs.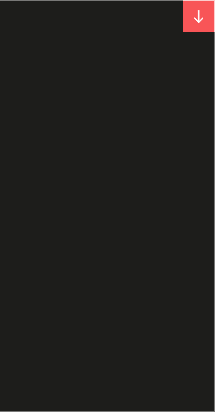 What is a coworking space?
Coworking space is an agile workspace solution that allows you to rent a desk in a shared office, with the utilities and furniture all included in one simple cost. It's a great way to maintain flexibility and affordability, regardless of the size or nature of your business.
Within a shared office space you often have two options:
Reserving a dedicated desk, which allows you to create a presence within a business centre
Hot desk by the hour or day and have the freedom to drop into a variety of different locations
With minimum fuss or commitment, these flexible options can keep your workspace costs to a minimum and complement agile working schedules.
Benefits of coworking spaces
Cost-effective shared workspace with no commitment
Shared office space gives you a way to use professional coworking space that's built for business – without the sole expense or responsibility for managing it. Choose from thousands of hot desking locations with the utilities, internet and furniture all set up ready for your arrival.
Budget-friendly and scalable
Shared offices offer a truly scalable solution, allowing your workspace to grow with your business. Individuals and small groups can enjoy the use of hot desks, or for a more long-term solution or upcoming project, you can also reserve dedicated desks and rooms for you and your team.
Collaborative environments for expanding your network
Grow your network, find new clients and collaborate with other like-minded professionals in a coworking office. You can also gain access to a range of exciting networking events in your local area.
A productive office on your doorstep
When you need to strike the balance between productivity and convenience, our shared office space lets you use a workspace closer to home. So you can focus and get things done, without the hassle or wasted time of a long commute.
Contact us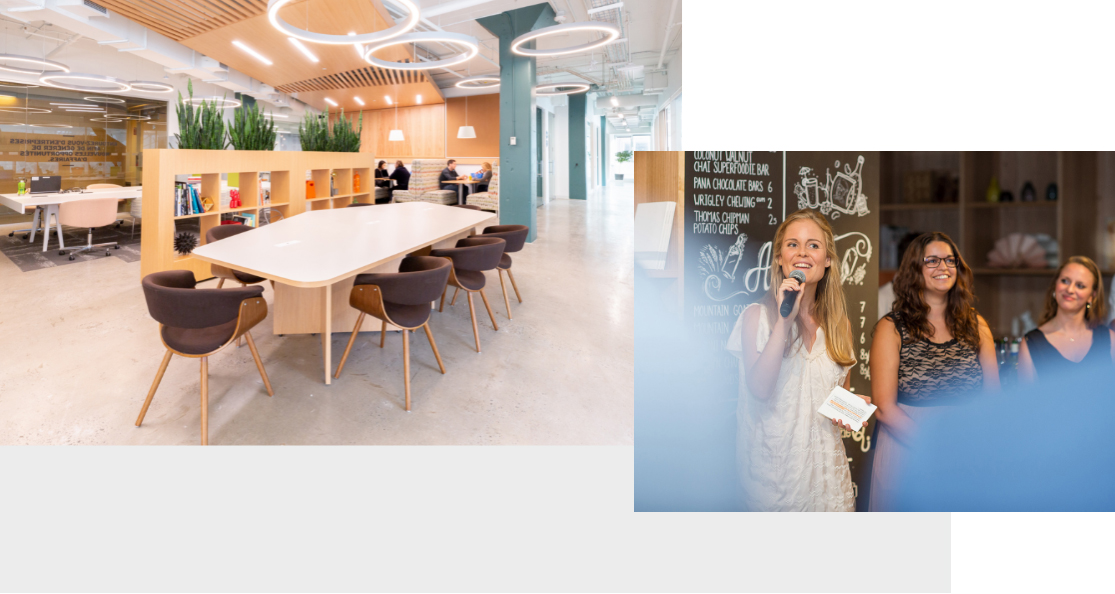 Who can thrive in a
coworking space?
Individuals
Transition into a coworking space to increase productivity, creativity and your list of local business contacts. With thousands of shared workspaces available across the world, you can rent a desk in a prime location anytime, anywhere.
Expanding businesses
Easily scale up hot desk space as your workforce expands. Whether recruiting new staff or scoping out an area for future expansion, a shared office lets you react quickly to changes in your business.
Start-ups
The opportunities are endless in a coworking space, especially as an alternative to or before you commit to a full startup office space. Get your venture off the ground quickly, make new business connections and enjoy a social, creative atmosphere conducive to startup offices.
Corporates
Accommodate project teams, visiting staff and consultants in a professional environment. Easy Offices can help you find affordable coworking spaces for temporary or permanent employees in over 3,000 locations.
Browse spaces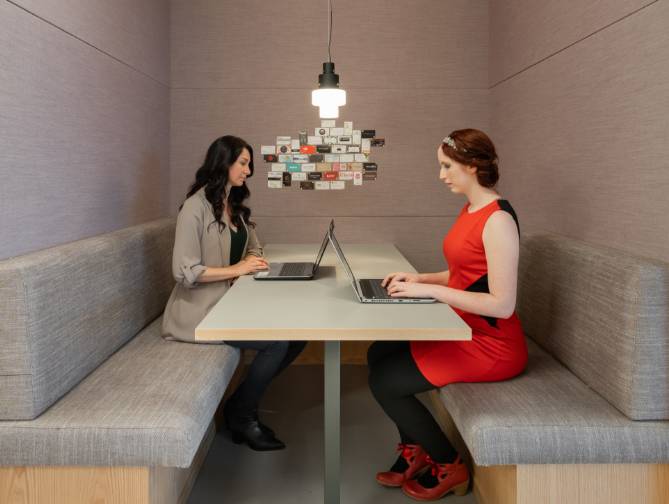 What's included in shared offices?
A coworking space will often come with a variety of amenities. As well as offering you a desk and phone, many enable you to stay connected with super-fast WiFi, telephones and headsets.
Depending on your business centre's facilities, you can also gain access to relaxed business lounges and communal kitchen areas, with staffed receptions on-hand to help with any admin assistance, like photocopying and scanning. If you're looking to network, you'll be pleased to hear that shared offices also host networking events, allowing you to meet like-minded professionals and build your business' local reputation.
How can I book a
coworking space?
At Easy Offices, we can connect you to a wide variety of shared office desks. Giving you the flexibility to reserve a dedicated desk or hot desk in over 3,000 locations worldwide, you can find the professional space you need whilst responding to the demands of your business.
Use the search box below to enter your postcode and find nearby work space for rent or call our team today and let them compare the best coworking space deals on your behalf.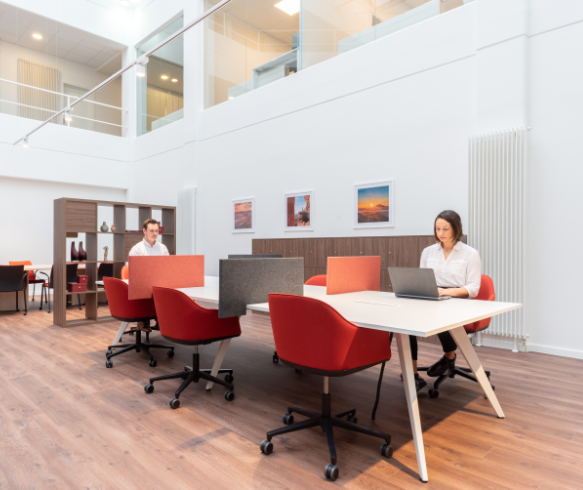 FAQs
How do coworking spaces work?
A coworking space is essentially a shared workspace.

They offer affordable shared office space for those who are flexible working or hot desking and don't have a central office space. A coworking space offers a variety of office amenities such as private meeting rooms, kitchens, lounges and are beneficial for freelancers, entrepreneurs, startups and small teams who want to take advantage of a flexible space. Some coworking facilities offer access to multiple locations for the ease of members. Generally, there is no deposit that you need to pay and no concept of a minimum stay period.
Are coworking spaces worth it?
Coworking spaces can be hugely beneficial to freelancers, entrepreneurs and startups, who are looking to keep overhead costs low, while still utilising a traditional office space setting. Not only can the facilities be beneficial, with many shared office spaces providing WiFi, bookable meeting rooms and admin support, these coworking offices are also an excellent networking opportunity.
How much does it cost to rent a coworking space?
The cost to rent a coworking space will vary depending on the requirements of the shared office space needed. It's important to consider whether you're looking for a coworking space, which will offer you a choice of different length contracts or if you're hot desking, you're looking for much more flexibility.

Shared office space costs will depend on the facilities of the workspace provider, as well as location and size. Our Easy Offices advisors are experts at finding an affordable workspace that suits your business needs and can find you the best deals for your requirements.
what's the difference between coworking and office space?
The main difference between coworking and office space is the level of amenities and services within your building, as well as the general environment.

In a coworking space, you'll typically find freelancers and entrepreneurs working in a collaborative workspace giving them the flexibility to hot desk on an hourly basis. Each shared office space includes entry-level business amenities such as WiFi connectivity, modern furniture and lounges. Some coworking spaces will also include access to meeting rooms and a mail handling service, for an additional fee.

Whereas an office space provides a greater range of traditional office amenities to help their tenants with the day-to-day running of a company, such as full reception services and admin support. Generally, renting office space is longer-term, where businesses book private office space for an individual or an entire team. There are a range of offices to choose from so if you just want an office for a day, a temporary office space or a private office on a monthly basis we can provide a plan for you.
what does shared office space mean?
Shared office space refers to the practice of two or more businesses sharing a commercially leased office. In simple terms, it is when a tenant of a privately leased office rents out their unused office space to another business. This allows both parties to benefit from sharing the cost of the rent, bills and overheads, so you get to use a coworking space, without the commitment of your own long-term lease. In most shared office space for rent, you'll find the coworking space fully furnished, equipped with WiFi, phone lines, printers and meeting rooms.
How do I set up a shared office space?
Setting up your new shared office space is made simple with Easy Offices. We can help you find the right coworking space to suit your requirements. To secure your new coworking office all you need to do is sign the license agreement and pay the deposit before moving in. As most shared workspaces are fully-equipped, it's often a quick and simple process.
What should you consider when choosing a coworking space?
A coworking space isn't one-size-fits-all. You will need to consider a few things before you get started. When it comes to finding your ideal coworking space, you need to think about location, budget, flexibility, privacy and WiFi, at the very least.

You'll also need to think about whether you're hot desking, or if you're looking at a fixed dedicated desk in a shared office space. Once you've thought of these, you can then start thinking about office amenities, atmosphere, environment and whether they have good coffee on site!
Explore
Co-working spaces
near you