Known for its iconic skyscraper, One Canada Square, Canary Wharf is a major financial district at the regenerated Docklands in East London. Canary Wharf was first developed under the Thatcher government of the late 1980s and is home to some of the biggest banks including HSBC, JP Morgan, Barclays and Citigroup.
Easy Offices lists 9 serviced offices in Canary Wharf, all well connected by the Docklands Light Railway and Jubilee Line.
Canary Wharf may be best known for its skyline of imposing towers, but beneath the skyscrapers is a completely different story. Lively bars and gourmet restaurants give workers plenty of dining choices, and with five shopping malls of the biggest brands, Canary Wharf is one of London's top shopping districts.
Need a little shopping inspiration or retail therapy on payday, then follow us to five of the best stores in Canary Wharf.
Godiva
Whether you opt for a box, tower or hamper, when it comes to eating the best Belgian chocolate it can only be Godiva. Famous for their praline chocolates first created in the home of Pierre Draps Senior in 1926, Godiva has gone on to become an internationally recognisable brand renowned for the quality and expertise of its chocolate.
Named after Lady Godiva, they seeking to embody her bold and generous spirit. Godiva chocolates have long been known as one of the best ways to show you care. So if you need to show yourself some love or just need to find the perfect chocolate gift, start with Godiva in Canary Wharf.
Tiffany & Co
Established in 1837 by Charles Lewis Tiffany, Tiffany & Co is synonymous with diamonds and elegance. Whether you think of the famous yellow Tiffany Diamond or the modern engagement ring, the finest jewellry comes in an iconic blue box.
From designers such as Jean Schlumberger to Elsa Peretti, hallmark elegance has left more than Audrey Hepburn in Breakfast at Tiffany's gazing in wonder.
Now with a range of accessories: from sunglasses to watches, there are plenty of options to choose from. Lost for inspiration? Begin with their annual blue book, showcasing the best in jewellry design. The store in Canary Wharf is open till 8pm, giving you plenty of time to marvel before selecting your payday purchase.
Aquascutum
To contend with the notorious British weather, it's always worth having some waterproof clothing at the ready. And when it comes to an overcoat, you need go no further than the Aquascutum trench coat.
Living up to its Latin name 'water shield', the company has specialised in water resistant cloth for years, with John Emary, the founder, patenting the material.
Originally called Mayfair Tailors, the company was set up in 1851. Popular with royalty and used as the coat of choice in both World Wars, the company has built up an enduring legacy based on durability and resistance.
Catering for both men and women, Aquascutum has led the way in innovation, from their wind resistant Wyncol fabric to Aqua Fire, a water and crease resistant fabric.
Hackett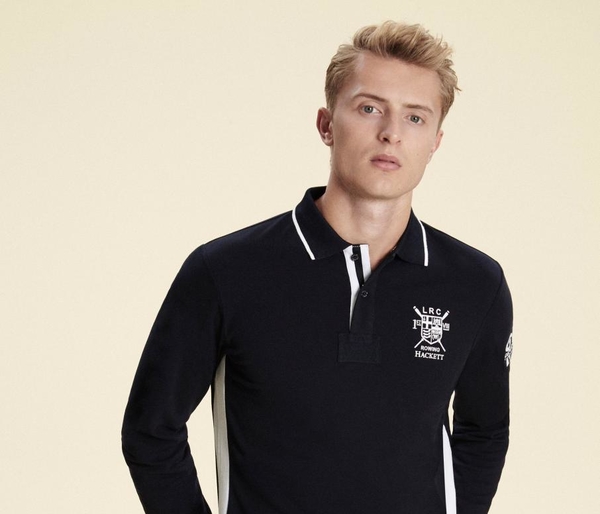 With humble beginnings selling well made secondhand clothing, Hackett is now at the top end of menswear fashion. Started by Jeremy Hackett and Ashley Lloyd Jennings in 1983, the company made the shift to producing their own menswear in 1985 when the demand for their stock began to outstrip supply.
Specialising in clothes for every occasion, Hackett is famed for its polo shirt, which came to the attention of the sporting public at large after sponsoring the British Army polo team. With further sponsorship over the years including the Oxford and Cambridge boat race and Aston Martin racing, the company is well connected with the best in sporting action.
L .K Bennett
Started by Linda Bennett, more than 25 years ago, the store has more than 100 stores across the UK and Ireland. Perfectors of the art of wearing glamourous shoes without the pain normally attributed, the company is famed for its kitten heels.
Now retailers of clothing, from dresses to knitwear, coats and skirts, find the perfect shoes and outfit at the same time. With shoes and accessories worn and carried by Kate Middleton and Naomie Harris, you can keep in perfect step with style.