King's Cross is a vibrant quarter of London. With King's Cross St Pancras station at it's heart, it brings in thousands of commuters, intercity travellers, and Eurostar passengers each day. Easy Offices gives businesses access to seven serviced offices within the King's Cross area, ideal for those seeking excellent connections.
If you rent a serviced office in King's Cross, what are the benefits?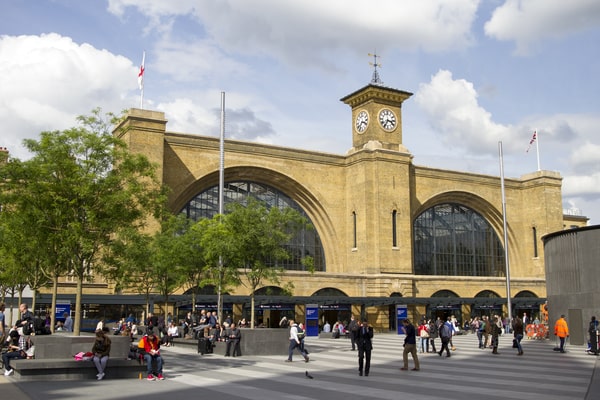 King's Cross is an up and coming tech area
King's Cross is currently undergoing a ÂŁ650 million makeover, incorporating: offices, homes, restaurants, shops, music venues, community facilities and galleries. It's an area that is exploding with business opportunities and location advantages.
Shoreditch is where many of the tech professionals in London are currently located. However, newer businesses are moving away from this overpopulated area for the new "tech city" in King's Cross. This relocation is a direct result of the increase in rent prices in Shoreditch, due to the dramatic increase in demand for spaces from digital and tech companies in the last few years.
But it isn't just new tech startups moving to King's Cross, big brands like Google are moving into the area too.
Google's new development is due to be completed by 2017, though some staff have begun to move in as the floors are completed by engineers. The building consists of a 180,000 square foot building, constructed into 11 storeys. According to the property developer Argent, the new building will be situated behind Central St Martin's College.
Similarly, Facebook and Twitter, two large tech brands, have moved into Euston, an area adjacent to the King's Cross area. Facebook have a new Regent's Place development next to Euston Station consisting of 85,000 square foot of space, while Twitter has reportedly taken up 18,000 square foot of office space in the Euston area.
These global names taking up residence in areas that are not Shoreditch, such as the King's Cross area, is only increasing the validity for other tech companies to look for up and coming areas of London for their serviced offices. Additionally, as developments from these tech giants are happening now, it gives you the chance to get in on the ground floor before they popularise the area.
Unbeatable travel connections
King's Cross is one of the most well connected areas of London, with a variety of transport options beyond the buses and roads.
King's Cross Station houses not only the Underground and St Pancras Overground, but also the Eurostar —connecting London directly with other business capitals and European tech hubs in Paris, Brussels, Lille and Amsterdam.
Alongside this, St Pancras trains can get you to Edinburgh, the second largest financial sector in the UK, in under 4 and a half hours. London's airports are also easily accessible from the station for international travel by your team or clients.
Summer spaces, top eateries and exercise schemes
But it isn't just the practicalities of an area that make them attractive. You want your office to be in an area that's interesting and has plenty of quality amenities, such as restaurants and bars.
Nearby natural attractions, especially popular in the summer, include Granary Square, with its 1,080 choreographed squirting fountains, and surrounding tables to enjoy the scenery over lunch. Grassy steps, decorated for seasonal events, and a floating cinema are also close by to enjoy on a Friday night to celebrate the end of the week.
Plum + Spilt Milk brasserie, located in the newly refurbished Great Northern Hotel, and Granary Squares KERB streetfood market, are two of the top dining establishments in the area and in London.
King's Cross also features a number of trendy exercise schemes, all ideal ways to stay active with an office job. There is a free, running club, Run KX, which meets at Kings Cross and is guided by personal trainer Martin Whitelock. If running isn't up your street, Moes Bootcamp of high intensity interval training is another option. Or if you fancy some variety, the German Gym Bootcamp features high energy boxing, bodyweight drills and swimming.