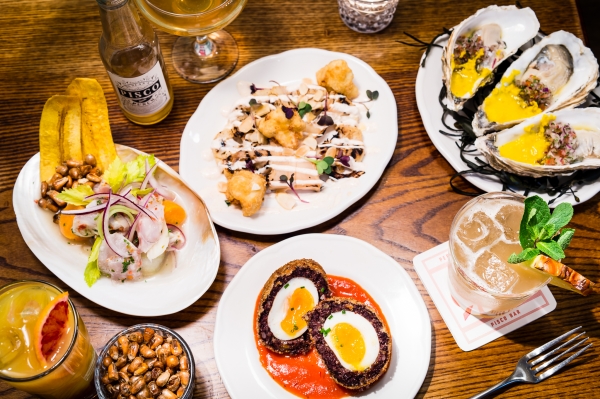 One of the trendiest locations in London, Shoreditch is home to the 'Silicon Roundabout', a hotbed of startups and creative talent. Synonymous with hipsters and street art, Shoreditch is also known for its diverse array of coffee shops, pop ups, street food and restaurants.
Easy Office has 21 serviced offices in the area, so if you looking for a great place to pick up lunch or your mid-morning coffee, here are five places between Shoreditch and Old Street to check out.
Pitfield, 31-35 Pitfield Street
With Victorian lights on either side of the door, this cabinet of curiosities is an eclectic cross between a cafe and a shop. Upon entering Pitfield, this bric brac, mish-mash with stage lights and chandeliers is a little emporium of curiosities.
Make yourself at home on the sofa with a coffee table and books, or play detective with a large magnifying glass and spy the trio of ceramic owls. Alternatively, sit under the pink neon 'Shaun Clarkson' sign and peer behind the scenes to see the offices behind the cadmium yellow walls.
The perfect place to gain artistic inspiration, collect your thoughts and lunch, while munching on chorizo, brie, salami, or mozzarella stuffed flatbreads. Alternatively, 'pick and mix' from a daily selection of salads. Or try some good old fashioned quiche or lasagne. Whatever you eat, listen to the pit of your stomach at Pitfield
Ceviche, 2 Baldwin Street
Cerviche breathes familiarity, with long gridded windows and steps leading up to an ornamental railed door.By all appearances, it could be a nearly extinct old East End cafe. But this two-thirds white tiled and one third verdant green and chocolate and caramel tiled bar and restaurant is no greasy spoon.
With the the sound of upbeat Latin music, and whiteboard signs above the bar in black capital letters promoting 'DUNCAN'S PISCO PUNCH", 'CERVEZA', and 'PISCO SOUR', Ceviche is a Peruvian restaurant and bar, celebrating all things Peruvian.
Named after a popular seafood dish, Ceviche occupies the former Alexander Trust Rooms, originally set up by tea businessman Sir Thomas Lipton.
In the late 19th century, the rooms were capable of providing up to 12,000 meals a day, with a three course meal available at 4.5d (2p) for the working class.
With contemporary Peruvian artwork lining the walls, including abstract photos of the seafront to Warhol style screenprints exchanging Campbell's soup for Cherman's milk, this building has been renovated with a Peruvian twist.
At Ceviche, the motto is 'Aqui se con cariño' or 'Here we cook with love'. With food presentation hitting the mark, grab a spot for lunch and find your passion for all things Peruvian.
Ozone Coffee Roasters, 11 Leonard Street
Like a large tattoo spread across the back of the shop is a wall mural painted in black with gaping holes.With hanging baskets sprawled across this coffee shop and wholesale seller, this might not be the ancient gardens of Babylon but it is a modern metropolis for the Apple technology lover.
With wooden tables and the simplest of decorations scattered on them ( all you need is a small vase with hand picked flowers, brown sugar and pepper.) this is one of the trendiest places near in Shoreditch to drink coffee.
From waitresses wearing aprons which could be the latest must have urban dresses, to pulleys with gym ropes reminiscent of the horrors of the school gym, Ozone has an urban but industrial atmosphere.
Opened in 2012, the company has come a long way from the company's original idea in El Salvador to its two floored street cafe just of the Old Street roundabout.
With a downstairs roaster, roasting coffee beans from Latin America and Africa for wholesale, you
can sample expert coffee and pick up a bag to go. Throw in a marmite and cheese scone, strawberry or chocolate lamington and you can have your coffee and a treat with it.
PizzaBuzz, 2 Worship Street
With white bricked walls covered with graffiti drawn in crayon, a mural and pillar covered in what looks like a doodle taken from a child's notebook, with characters such as King Kong, and Godzilla,appearing from a literal puff of imagination, it would be easy to assume that Pizza Buzz is just a family hangout
But don't be fooled by the bright primary colours or the children's corner, this family friendly pizza joint is also a popular lunchtime hangout for workers looking to have their lunch and eat it.
With a choice of pizza bases and toppings, follow the assembly line for your very own personalised stonebaked pizza. Watch it cook in one of two open fired ovens. Avoiding pizza like the plague due to dietary reasons, have no fear here with a gluten free base or 'Vegan Valley' favourite.
Looking for a breakfast option for dinner, try their brinner made up of eggs, sausage, cheese and chipotle mayonnaise wrapped in dough.
From wooden pine booths, to light tan leather sofas and thin pastel coloured high chairs, take a seat to find out what all the 'buzz' is about.
Redemption, 320 Old Street
Hidden between two buildings, and through an arch topped with 'Chapel Place' is 'Redemption'.But unless food is a religious experience for you, you won't find a church here, but a vegan restaurant serving up the best in raw goods.
With the additional promise of wheat free and sugar free meals as well as mocktails, you would be forgiven for feeling like this simple styled white and turquoise den with its rusty pelvis metal stools paired with contrasting green living room dining chairs is a kill-joy when it comes to food.
But though this place might not be your usual spot for finger licking soul food, when it comes to a hearty meal that will hit the spot, as the restaurant's slogan goes, you can 'spoil yourself without spoiling yourself.'
With a menu featuring asparagus black rice risotto, sweetcorn and red pepper pancakes and Tokyo Salad (brown rice, avocado and seaweed) with desserts such as lime and coconut cheesecake and dark chocolate and cashew nut mousse, you can buy back your lunch time and gut.
In other words if junk food is part of your daily routine like the sun setting in the east or if the vegetarian option does not quite 'cut it' anymore, then it is time to see the writing on the counter in bright neon pink: 'redemption' is easier than you think.