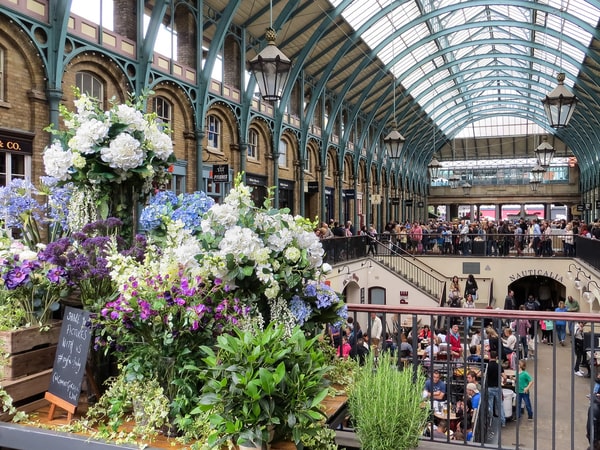 Easy Offices has a number of listings for serviced offices in Covent Garden, including prime locations on Floral Street and Long Acre. Many of these offices are located within a few minutes walk of the Covent Garden Underground station, giving your business (and clients) easy access to a prime area of London.
Covent Garden was formerly a vegetable garden for the monks of Westminster Abbey, but is now a vibrant tourist attraction with an array of shops, theatres and restaurants.
This is a great area for growing businesses who want to be near a hub of theatre and dining, offering great entertainment spots and beautiful backdrops for your staff breaks or client meetings.
Here are three reasons why you should choose Covent Garden:
The historical Covent Garden Piazza
Immortalised in Bernard Shaw's Pygmalion, the play behind the musical 'My Fair Lady', the Covent Garden Piazza, with its indoor market, is a central attraction in Covent Garden.
The piazza has been around since 1654, and a roaring trade has long taken place in the square, so much so, that after complaints from local residents about the general disorder, a market building with organised stalls was opened in 1830.
Designed by Charles Fowler, the market building is still in use today. While no longer the home for fresh fruit, vegetables and flowers, all kinds of shops and stalls offer other choice goods for tourists and visitors alike, from craft to jewellery to artwork, and clothing.
If the stress is all getting too much or you need a bit of escapism from the computer screen, step out of the office and into a hive of activity at the piazza.
Inspiring art and entertaining Theatres
From 'Theatreland' street signs to street performers, business inspiration is just round the corner at Covent Garden. In fact, it's one of the most inspiring areas for a business to be is under the glowing lights of some of the biggest shows in London.
From the Theatre Royal on Drury Lane to the Aldwych, Adelphi, Novello, and Garrick Theatres, to mention a few, there is no end to big shows and great theatre in Covent Garden.
We have office listings near to Bow Street, which is home to both the Royal Opera and the Royal Ballet company at the Royal Opera House (ROH). Despite two fires, the first in 1808, and the second less than 50 years later in 1856, the theatre like a phoenix has risen from the ashes, producing inspiring shows.
With a rich legacy of singers and dancers including Plácido Domingo, Luciano Pavarotti, Juan Diego FlÄ'Ĺ'rez, Margot Fonteyn and Darcey Bussell, our serviced offices on Floral Street, are a stone's throw from the ROH too. For entertaining clients, this makes having your serviced office here ideal.
Dine out for dinner
After a long day at the office, a good meal can make a good or bad day end on a high note.
With a range of cuisine to try and some innovative options in the city centre, Covent Garden has a wide ranging of dining options.
Restaurants such as 'Sticks and Sushi' combine Danish and Japanese culture, perhaps unexpectedly, with a dark, slick atmosphere and traditional sushi as well as non-seafood skewers (sticks).
For the more carnivorous diners, you can head over to Flat Iron on Henrietta Street for a steak and half pint. Produced from a select network of farmers in North Yorkshire, you can beef up on the finest British steak.
Alternatively, if you need to impress a business contact then try the fine dining at the Paul Hamlyn Hall Champagne Bar with its legendary smoked salmon, or try rare roast beef at the Crush Room.
With our serviced offices, access to the best in quality food could literally be across the street from you.