This Bedfordshire town with fantastic transport connections is perfect for commuters or companies looking to relocate to serviced offices in Milton Keynes. The town has a winning combination of good value, high quality office space and quick access to London and a range of other important destinations.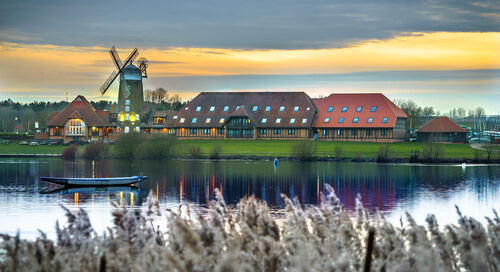 Companies based in Milton Keynes
There are many major national and international organisations already benefiting from being based in Milton Keynes, including:
Argos
The Open University
Network Rail
Domino's Pizza
Mercedes-Benz
Suzuki
Volkswagen AG
Red Bull Racing
Welcome Break
Homebase
Around Milton Keynes
There are a number of integrated public transport options in Milton Keynes. One of these is the Milton Keynes Redways, a comprehensive network of cycle/pedestrian shared paths, connecting the train station and its cycle parking facilities to various locations including the city centre.
There's also a broad network of bus services linking the station to the shopping centre, Milton Keynes Theatre and Xscape with its indoor ski slope as well as to numerous suburbs, and nearby commuter villages and towns. Near neighbours Buckingham and Aylesbury are served by the regular X60 service and route 41 connects Milton Keynes with Bedford and Northampton.
As well as the bus and coach station, Milton Keynes is served by five stations including Wolverton for north Milton Keynes, Bletchley and Fenny Stratford both serve south Milton Keynes and Bow Brickhill (south-east Milton Keynes).
Argos and Network Rail's HQ are both in the town centre, a short walk from Milton Keynes Central station. The Open University campus is around 4 miles from the centre with Bow Brickhill the nearest train station and the 11 and 12 bus service operates every 30 minutes to the Campus.
Other key commuting destinations
London
London is a 35 minute journey via London Euston making it a very attractive proposition for commuting from the Capital. A new route from Milton Keynes into Marylebone via Aylesbury is also planned in the near future according to Network Rail's East West Rail Project. This will further open up Milton Keynes to access the highly skilled London business market.
Oxford
Oxford with its famous university has excellent coach links as a result of its strong tourist pull, the X5 bus operate two services an hour that call at Milton Keynes bus depot via Buckingham and Bicester with its world-famous designer shopping outlet.
Birmingham
Britain's second city and its wealth of skills and companies to connect with is on a direct line to Milton Keynes and services from Birmingham New Street station can take as little as 52 minutes on the fastest hourly timetabled trains.
Cambridge
Cambridge with its world-renowned university and cluster of tech companies providing for skilled workforce opportunities can be accessed via bus on the route X5 service which offers regular twice hourly services.
Reading
Reading has a vibrant business community and is under 2 hours from Milton Keynes by train via London Euston, a connecting tube, and then an outbound direct train from London Paddington.
Luton airport
Luton Airport is around 1 hour 40 minutes by train with changes at Bletchley and Bedford stations. Stagecoach operate the 99 bus which has an hourly service to Luton Airport and takes approximately 1 hour 20 minutes.
Heathrow and Gatwick airport
London Heathrow Airport is just over 1.5 hours away on the a very regular train service, with a change at London Euston for the Heathrow underground link up. Gatwick airport is served by an hourly National Express service from the coach station.
Access to the coach station can be easily linked to from Milton Keynes's 'Park and Ride'.
Milton Keynes Park and Ride
The Park and Ride is just 10 minutes from the city centre and is accessed from Junction 14 of the M1, providing easy access for those travelling to and from the outskirts by car for their onwards journey to the business areas. This not only opens up a range of car access options for business, it also allows access to Heathrow and Gatwick airports in just over 1 hour and 2 hours respectively.
With good access to so many key locations and close proximity to London combined with excellent quality and abundant office space it's no wonder that Milton Keynes is really going places.