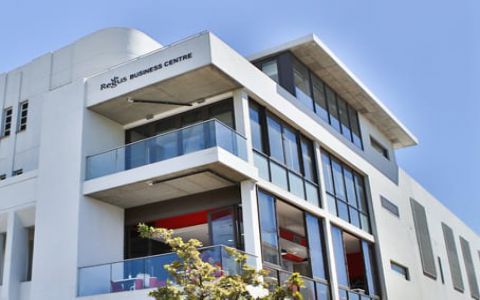 South Africa

>

Office Space

>

Eikestadmall
Eikestadmall , Stellenbosch, 7599
The business centre in Eikestad Mall is in one of the best-positioned office buildings in the historic core of Stellenbosch, the second oldest town in South Africa. The mall was originally built for retail use and has in recent years been transformed into a beautiful mixed-use site with commercial office, high-end retail, residential, leisure and medical facilities. The business centre has it's own dedicated entrance. As well as being known as the most scenically attractive and historically preserved town in southern Africa, Stellenbosch is a centre for 'clean' industry and is a sought-after location for business, ranging from entrepreneurs to major international companies, many of which have their head office in the town. The Western Cape region's robust economic performance is generated by its famous wine production, winning many international awards, along with a diverse range of activities including agriculture, construction, wholesale and retail, financial and business services and niche manufacturing activities as well as property development and tourism.
Key Features
24 Hour Access

Break-Out Areas

Business Lounge

City/Town Centre

Disabled facilities

Double Glazing

Elevator

Gym and fitness room

High speed internet access

Lounge Area

Major transport links

Meeting Rooms

On-Site Lunch Restaurant

On-Site Sandwich / Coffee Bar

Outside Seating Area / Terrace

Raised Floors

Secure underground parking

Sky TV

Smoking Areas

Suspended Ceilings

Temp control

Videoconferencing studio

Voicemail
Location
By Road:
Stellenbosch is 53 km (33 mi) east of Cape Town.An excellent road network links all major points within the Stellenbosch region and Cape Town and surrounds.Both the N1 and N2 National Roads link to Stellenbosch.
By Air:
Cape Town International Airport
By Public Transport:
Rovos Rail and The Blue Train are two of the world's most luxurious trains that travel between major cities in South Africa and Southern Africa.The Shongololo Express and Shosholoza Meyl also travel between major cities in South Africa and Southern Africa.
Browse Street View Images
From R 2547 p/m
Get a quick quote for Eikestadmall
Get a Quick Quote