Ever wonder about the best music to listen to when working? We analysed over 9,000 songs across 50 'office playlists' to unearth the most played song at work, so you can perfect your playlist whether you're working from home or in the office!
We spend almost 19 hours a week listening to music, and a ton of that time is spent in the office or at our desks at home. Our research might have the answer if you've ever wondered what to listen to while you work.
We analysed 50 different office playlists on Spotify and trawled through more than 9,000 songs to unearth the track that appears on more lists than any other, making it the most popular song to work to – and one that's been played almost two billion times.
What is everyone listening to while they work?
Out of 9,000 songs, the artist that appears on more workplace playlists than anyone else is… Harry Styles.
The artist features on more than half of all playlists analysed. When it comes to his ultimate office banger, Watermelon Sugar outranks the rest as the most popular track to listen to at work.
With a popularity score of 90 out of 100 on Spotify, the song has been an office playlist staple since it dropped in 2020. It's catchy, but it also has an upbeat, positive vibe. Research shows a positive correlation between happy music and creativity. While songs paced between 50 – 80 beats per minute (BPM) are ideal for deep concentration, our research shows that the average BPM across all the work playlists analysed is 116 BPM.
Watermelon Sugar sits right in the sweet spot with 95 beats per minute. It also has an above-average energy and positivity score compared to the rest of the songs analysed.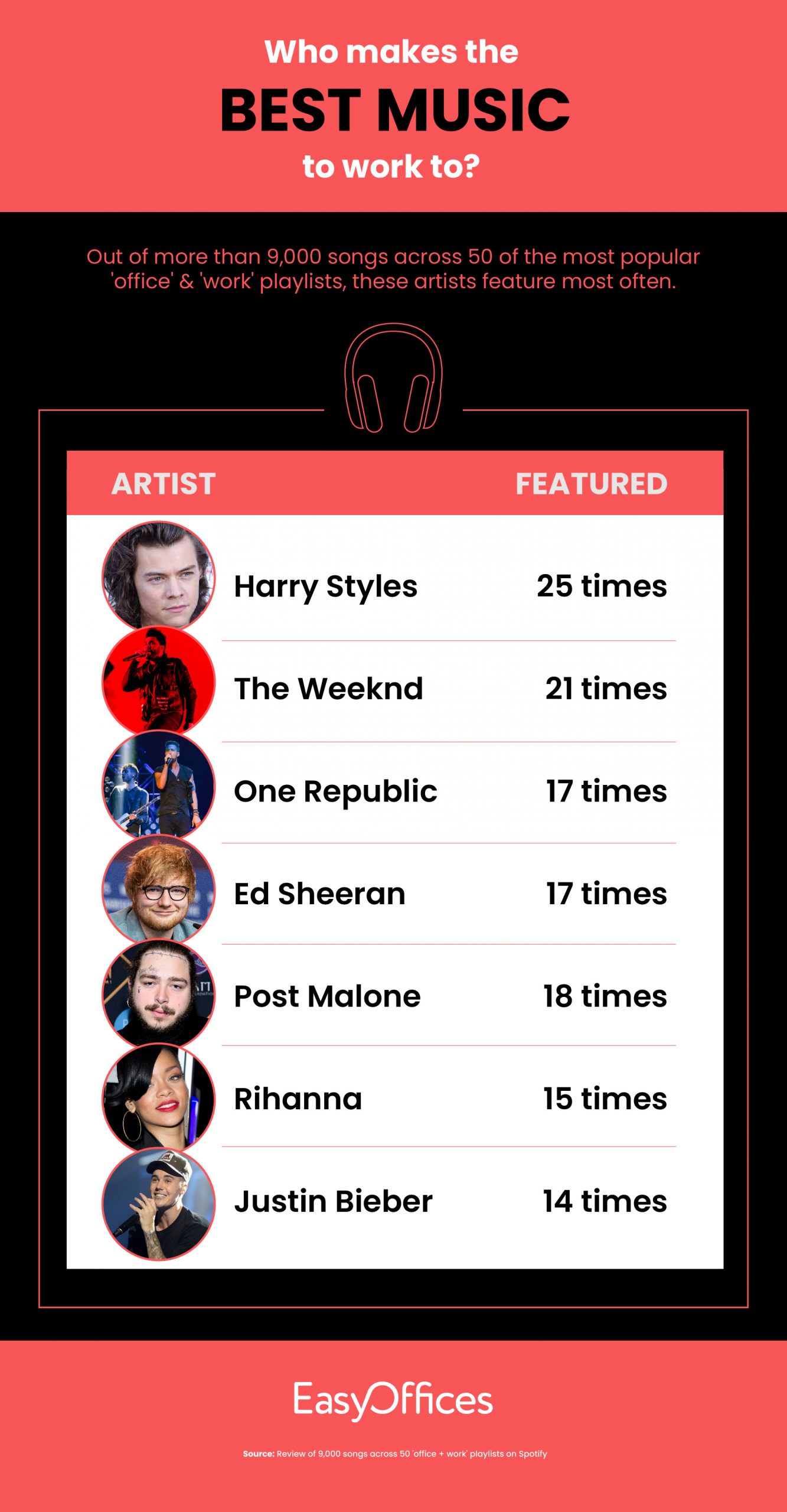 Best music to listen to while working: Here's the top 7 songs that feature on the most office playlists:
| | | |
| --- | --- | --- |
| Song | Artist | BPM |
| Watermelon Sugar | Harry Styles | 95 |
| Blinding Lights | The Weeknd | 171 |
| Counting Stars | One Republic | 122 |
| Shivers | Ed Sheeran | 141 |
| Sunflower | Post Malone, Swae Lee | 90 |
| Umbrella | Rhianna, Jay-Z | 174 |
| Ghost | Justin Bieber | 154 |
Music can increase or kill productivity
Music helps us get through the workday in loads of different ways, whether it's buckling down to concentrate on a deadline, getting pumped up before a big presentation, or chilling out during a stressful day.
Unsurprisingly, 92% of people agree music strongly influences mood. During the pandemic, 8 in 10 people used it to improve emotional wellbeing and overall, 60% of people agree it's one of the best ways to combat a bad mood.
We also already know music does way more than just impact our emotions. 67% of people say pressing play on their favourite song is more powerful than a cup of coffee when it comes to perking up for work, while 76% say listening to music helps them produce their best work.
"We already know how powerful music is in a workout scenario", says Easy Offices CMO John Williams. "Studies show that high tempo music can make us feel more powerful and determined and make strenuous tasks easier to manage. Unsurprisingly, music has a powerful positive influence on how we work. In today's hybrid work scenario, we see a lot of teams switch between home and office environments, and while office setup influences our ability to collaborate and concentrate, music also has a massive impact on our headspace as we plug in and out of digital and physical work environments. We'll add Harry Styles to our office playlist to see how we get on!"
Press Play!
Find an office space near you
We've got flexible workspace to suit any style, start your search with Easy Offices today.