Generally, as long as your hair is brushed, teeth are clean and your clothes are clean, you're set for work and ready to go. However, if you really want to dress to impress and look and feel like you mean business, you will need to put a bit more effort in. Fear not, you don't need to be up hours before you start work everyday – it's all about general day to day attention to detail. Remembering the basic rules and making sure you have a positive and mindful approach to personal presentation. Your work ethic, incredible skill set and enthusiasm will get you so far, but excellent personal presentation will help you get further, even if it's just by giving you tons more confidence.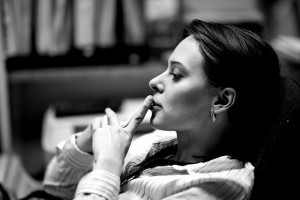 Pay attention to these simple workwear style tricks to get your personal presentation tip top:
Approach Sleeve Length Like A Man
Really well fitted suits on men involve an on par sleeve length that sits exactly right with relaxed arms and arms reached out front. Sleeve lengths that are wrong look like you don't pay attention to the finer detail, so you must get them right. As a general rule, your sleeve cuff should fall slightly below your wrist when you relax your arms at your side.
Get Your Underwear Right
This is a basic rule, but one so many women forget at a cost of bad posture and poorly fitting clothes. Whenever you're planning an outfit, start with your underwear and work forwards from there. Make sure the bra's gore (the bit connecting the cups at the front) fits flat to you when arms are by your side, and when they are above your head, make sure the straps are not slipping down over your shoulders, the band lies below your shoulder blades and there aren't any bulges from your cups. Your bra sits on a central part of your body and if it doesn't fit right it could give you a bad back, have you constantly readjusting it and cause you to feel self conscious. Your underwear should be comfortable and make you feel good – make it your priority when it comes to creating a great workwear outfit.
Check Your Buttons
With button up shirts, it's so easy to think they fit well when you buy them and then find when you're sat in your chair at work that the buttons are gaping, exposing what's underneath. Make sure you move around in the shirt when you try it on – you're in the privacy of your changing room, don't worry about how you look! Sit down, lean over, stretch your arms out – move around and check you're not getting any gaping in the shirt.
Check Your Feet
It's so important you are comfortable at work, and your shoes have a lot to do with that comfort. If you can wear a pair of six inch heels, be in complete agony but not show it and are happy to do that – good for you, keep calm and carry on. However, if you regularly find you're having to kick your shoes off under the desk, deal with unsightly blisters through ill fitting shoes or you're walking in an 'adapted' way because of sore shoes – it's time to invest in a pair that feel and look great. Pay a little bit more for a pair that support your feet, that make you walk great, that make every outfit pop – you will thank yourself for spending that little bit more on footwear that makes you feel fabulous. Whatever shoes you wear, make sure they don't have any holes in, are in good condition and are not scuffed – these things will be noticeable in meetings where your legs are crossed or your feet are in view.
Keep Your Hands Looking Beautiful
You gesture instructions at people, shake their hands, sign things and rest your hands on the desk – your hands will get noticed. Maintain that manicure, even if you're just trimming any straggly bits of skin, filing your nails and popping on a bit of clear nail varnish. Make sure you moisturise your hands regularly – your soft and well-cared for hands will be noticeable when people shake them. As a priority do not bite your nails or go to work with chipped nail varnish. These small details are noticeable and suggest nervousness or anxiousness as well as a complete lack of regard for personal care.
Don't Overdo Your 'Scent'
It's nice to smell nice, but it's very off putting to gas everyone around you with vigorous sprays of the perfume you use. In fact, too much minty breath or perfume actually suggests to an employer or colleague that you may be covering something up. Keep it subtle and fresh.
With a few simple adjustments, attention to detail and a little quality control, you'll have your personal presentation 100% in no time!