The conference call is nothing new to businesses, but with the recent pandemic forcing a large percentage of the UK workforce to ditch their usual office space and work from home more regularly, we are now spending more time dialled into these meetings than ever before. But, as we learn to adapt to this increasing conference call culture, a few odd - and occasionally inappropriate - behaviours have emerged in the way we communicate via the virtual medium.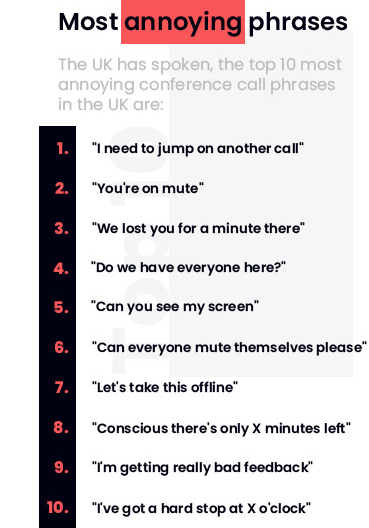 And it's not just body language, a new conference call vocabulary of peculiar (and annoying) buzzwords and phrases has become a common feature of our online meetings, too.
Naturally, we wanted to know exactly which of these conference call habits and phrases the nation dislikes the most and what you think of the people that use them.
So, we surveyed 1,000 UK workers to find out.
There are few things more annoying than a technical difficulty but, unfortunately, that's often where conference calls excel.
Poor internet connections, problems with screen-sharing and people struggling to dial in have led to some of the most common and annoying phrases in conference call lingo.
However, it seems we're most put out by the classic conference call get-out clause "I need to jump on another call". Is it just a brilliant excuse to leave the meeting? What's most annoying is you can never be sure.
Inside the UK's conference calls
Working from home, you might be forgiven for relaxing the rules of professionalism a little. Perhaps you'll work in a shirt, tie and pyjama bottoms one day. After all, who's to know?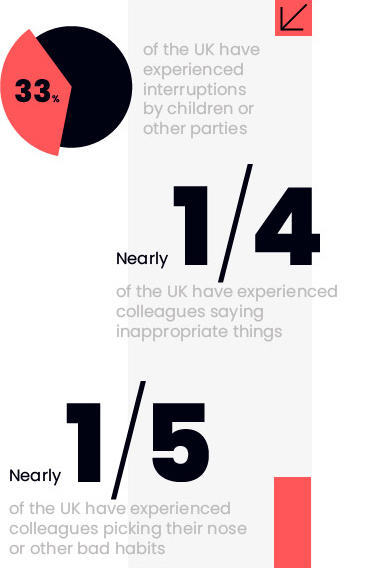 But many of us admit to witnessing some of our colleagues act a little too "at home" on a business call, whether they mean to or not.
Some things are completely understandable, like family interruptions. Children bursting into a room in need of attention can even be adorable. In fact, 33% of people had experienced family-based interruptions to business calls, and it happens most frequently to those working in sales & marketing (53%), and finance (45%).
Other things are a little less palatable.
Almost a fifth (17%) of people have witnessed someone engage in a bad habit on a conference call, some even picking their nose.
Workers in IT and telecoms have exposed their colleagues as being the worst for these kinds of behaviours. The number of bad habits in this industry was higher than the national average, at just over a 1⁄4 (27%) of people saying they had experienced it.
Thankfully, occasions of flatulence or belching were less common, with just 13% of the UK saying they'd witnessed this on a conference call (although, arguably, that's still too many). That is, unless you work in the sales and marketing industry, where this rises to 20%.
Other bad habits we experience on conference calls across the UK include:
people arguing with others at home (13%), although this happens more often within the HR profession (24%)
seeing someone partially or fully naked (10%), which is most common in the arts & culture industries (19%)
But perhaps most concerning is that nearly a quarter (22%) of people have heard a colleague say something inappropriate. Those in HR had experienced this the most (47%), closely followed by those in the arts and culture industries (44%).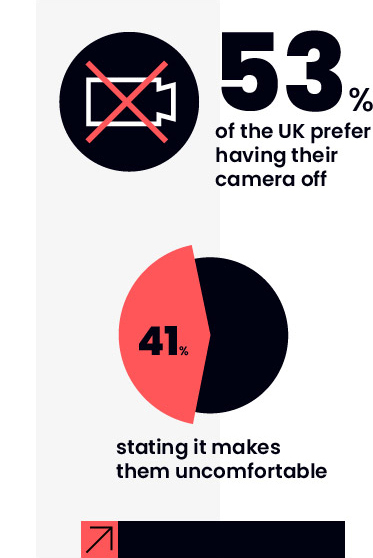 Say cheese!
Given the inclination among many UK workers to get more comfortable while working from home, it's unsurprising that we're happier when we're not on camera.
So although the UK is becoming more accustomed to being on video calls, 53% would still prefer to have their cameras off during calls, with 41% saying it actually makes them feel uncomfortable.
Despite preferring to have cameras off for a call, 36% of people said they had been pressured by employers to have their camera on.
The reason? Apparently trust levels decrease when a person is not visible.
A nation of multitaskers
In physical meetings it's often seen as rude to engage in another activity while someone else is speaking. In some organisations, you're even advised not to bring a laptop to a meeting to avoid distractions.
However, the same rules do not apply to conference calls, with 45% of the UK stating they participate in other activities or multitask while on calls. Men claim to do this more (49%), and the figure is highest in the sales & marketing industry 65%.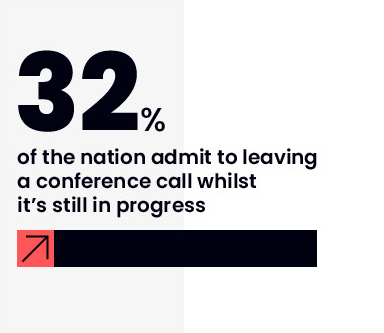 Hello are you there?
It's hard to imagine someone would leave a meeting room during an in-person meeting, but this is exactly what happens on conference calls.
Whether you excuse yourself politely or simply close the conference call window without saying a word, the fact is it's far easier to make a swift exit from an online meeting.
And almost a third of us take this opportunity. 32% of people in the UK admit to leaving a conference call before it was over, with digital walk-outs most common in HR (47%) and IT (58%).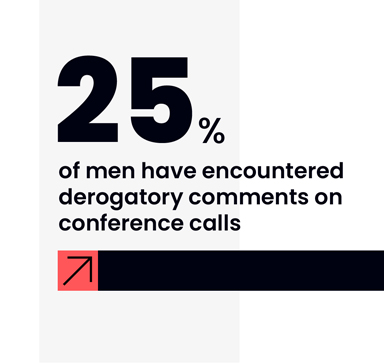 "Nice shirt"
Odd online activities are one thing, but many of us also admit to witnessing behaviours that are simply offensive. Unfortunately, the IT industry tops the list in this category.
38% in the industry stated that colleagues had made a derogatory comment to them regarding their appearance or surroundings. This is higher than the national average of 21%.
Men were more at risk of such comments over video call (25%) than women (15%), but age was also a factor in whether you're on the receiving end of an inappropriate comment.
31% of 25-34 year olds stated colleagues had made derogatory comments at them, compared to 11% of 45-54 year olds and just 6% of 55+ year olds.
Summary
There's no excuse for offensive behaviour, but the odd and surprisingly unorthodox background activities we see on our screens during this age of online meetings show there's a level of conference call etiquette we still need to work on.
In the meantime, we're certainly learning a lot about each other in this process. Yes, sometimes it's more than we'd like, but one thing's for sure: no one ever thought conference calls would be this... interesting.